While we are all in the same storm, we are not all in the same boat. From dinghy to ocean freighter, small yachts to large stable multihulls, from those drifting in a life raft or even those enjoying the comforts of a cruise ship – such is the experience of an individual in a storm such as Cyclone Gabrielle. Very different.
Gabrielle is only the latest, the Auckland floods of February that severely impacted parts of Waikato, Bay of Plenty. The Gisborne floods of 2022 (and again recently). The earthquakes in Kaikoura in 2016 and Christchurch in 2010/11 that caused havoc to property across Canterbury, all significant disasters leaving lasting effects for property owners and communities. Navigating back to a new normal isn't a straight forward matter.
What has become immediately apparent to me, and our teams at New Zealand Sotheby's International Realty is the need to consider every customer, vendor or purchaser as potentially in very different positions or circumstance. In Cyclone Gabrielle parts of Hawke's Bay had heavy rain and strong winds, the power was back on within a couple of days, sections got tidied up and one wouldn't know any different. Within one kilometre you have suburbs that are in a polar opposite state, from warm homes with green grass to flood ridden properties with silt one metre plus in every room, every nook and cranny.
These events are highly localised and a highly individualised experience. Now more than ever, a singularly personalised approach to a customer's circumstance is paramount, being aware of differing reactions, emotions and understanding is critical. The real estate market is hit instantly, but it actually doesn't stop. Unfortunately for some of our clients their properties will not make it back to the market, or certainly not for a couple of years. Conversely as a result of the significant displacement of people, the demand for property has a spike, and for those who are few in numbers but not hindered by insurance matters or bank finance, the purchasing of homes instantly took place – still while the mayhem continued around us.
I personally was involved in the most unusual presentation of an offer mid-week of Cyclone Gabrielle. Tuesday the storm was in force, the damage happened, lives and livelihoods lost. Wednesday afternoon that week was the set deadline for a tender on a lifestyle property between Napier and Hastings, but also unfortunately between two mighty rivers that went right through said property. We had received an offer at close of tender, without really even the time to consider, or the ability to communicate with anyone. Our listing agent was flood impacted and uncontactable, phones and power were out. Once a degree of connectivity came back, with offer in hand I began my calls to both vendor and purchaser. It was lovely to work with purchasers whose first concern was for our vendors, their second concern for the property they so wanted to own. Our vendors home was in no state to sell, evacuated, they had left the property to the mercy of the rivers, and it was highly unlikely they would ever be able to deliver the home and property in a state that our purchasers had viewed or desired. That said, our clients were happy with the level that the offer came in at, for them it was a good stake in the ground of value for insurance purposes.
Prior to this most recent weather event the property market was at the lowest of sales volumes, and median sales values, while levelling off, are still in decline. In areas such as Hawke's Bay and Gisborne the economic impact of Cyclone Gabrielle will hurt, with pain being felt by the many agri business owners whose land, established trees, vines or crops will in many instances takes several years to re-establish, let alone produce to the quantum or quality one has been accustomed to. With supply hindered the cost of certain goods will spike again. In contrast the government reaction requires significant investment in infrastructure as we rebuild roads, routes and networks. While there has been talk of builders and trades folk nearing the end of a constant stream of work, the demand will now increase again to enable construction of what has been lost.
Thanks to our New Zealand Sotheby's International Realty network, whose messages of support, donations and consideration of what can be done from afar is genuine and warmly appreciated by those of us more affected. While in areas highly impacted by the weather events I have shared tears with our Sotheby's teams who have worked and supported others around the clock, spending days and days clearing damaged homes and properties, shovelling insurmountable volumes of silt, and finding muscles they didn't know existed. Thanks to those volunteering at aid and community hubs, caring for those displaced, baking and preparing food for those without. Thanks to so many in the wider communities who continue to offer up their time in a number of other selfless ways.
I woke up on the 1st of March, enjoyed the fun and banter with my kids pinching and punching for the first day of the month. I took a large belly of breath and smiled as summer is over! Not a summer to remember across the North Island.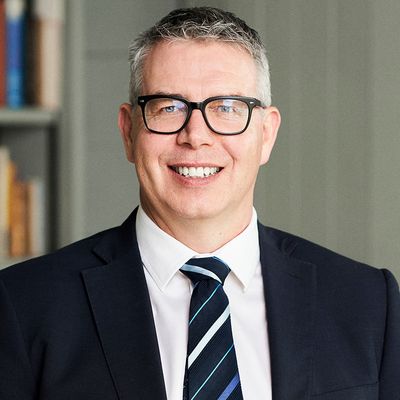 Fraser Holland Managing Director, Central Region