Indulge in the pure essence of lakeside serenity as we embark on a journey to discover three exquisite retreats in Queenstown and Wanaka. In these idyllic waterside holiday accommodations, tranquillity and adventure harmonise seamlessly.
Nestled amidst the majestic landscapes of New Zealand's South Island, our handpicked gems invite you to escape the hustle and bustle of everyday life. Here, against the backdrop of pristine lakes, towering mountains, and breathtaking vistas, you'll find your own slice of paradise.
Imagine waking up to the gentle lapping of crystal-clear waters and the distant call of native birds. These lakeside sanctuaries are your gateway to a world where time slows down, and worries melt away. Whether you're seeking a romantic getaway, a family retreat, or a group adventure, these accommodations promise an unforgettable experience.
The Beach House
Imagine waking up in a lakeside paradise, where every detail has been meticulously designed to provide you with the epitome of luxury and relaxation. Welcome to 'The Beach House,' a hidden sanctuary tucked away on the shores of Queenstown's Lake Wakatipu.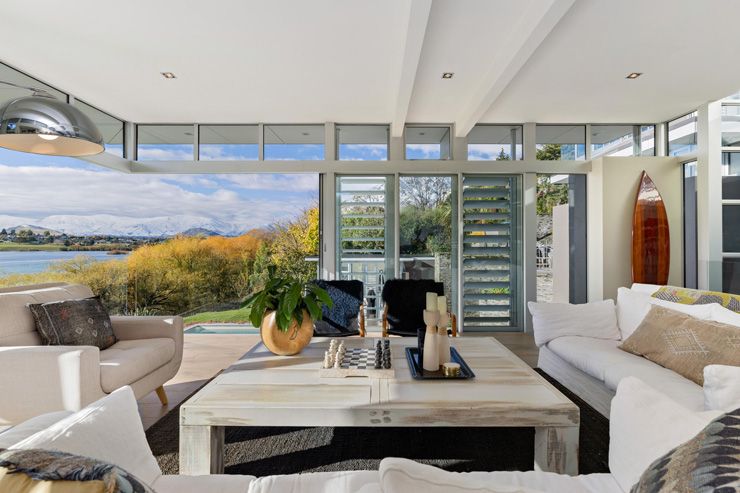 As you step inside this luxurious Queenstown holiday home, you're immediately greeted by the breathtaking beauty of the surrounding landscape, thanks to floor-to-ceiling glass doors that effortlessly blur the lines between indoor and outdoor living. Throw open those doors and let the fresh alpine air fill your senses, inviting you to savour the essence of lakeside living.
Start your day with a morning coffee on the secluded patio. The serene view of the lake and the rugged mountain peaks in the distance sets the stage for a day of adventure and relaxation. Alternatively, opt for a leisurely breakfast spread on the decking, featuring fresh pastries and plump berries that burst with flavour.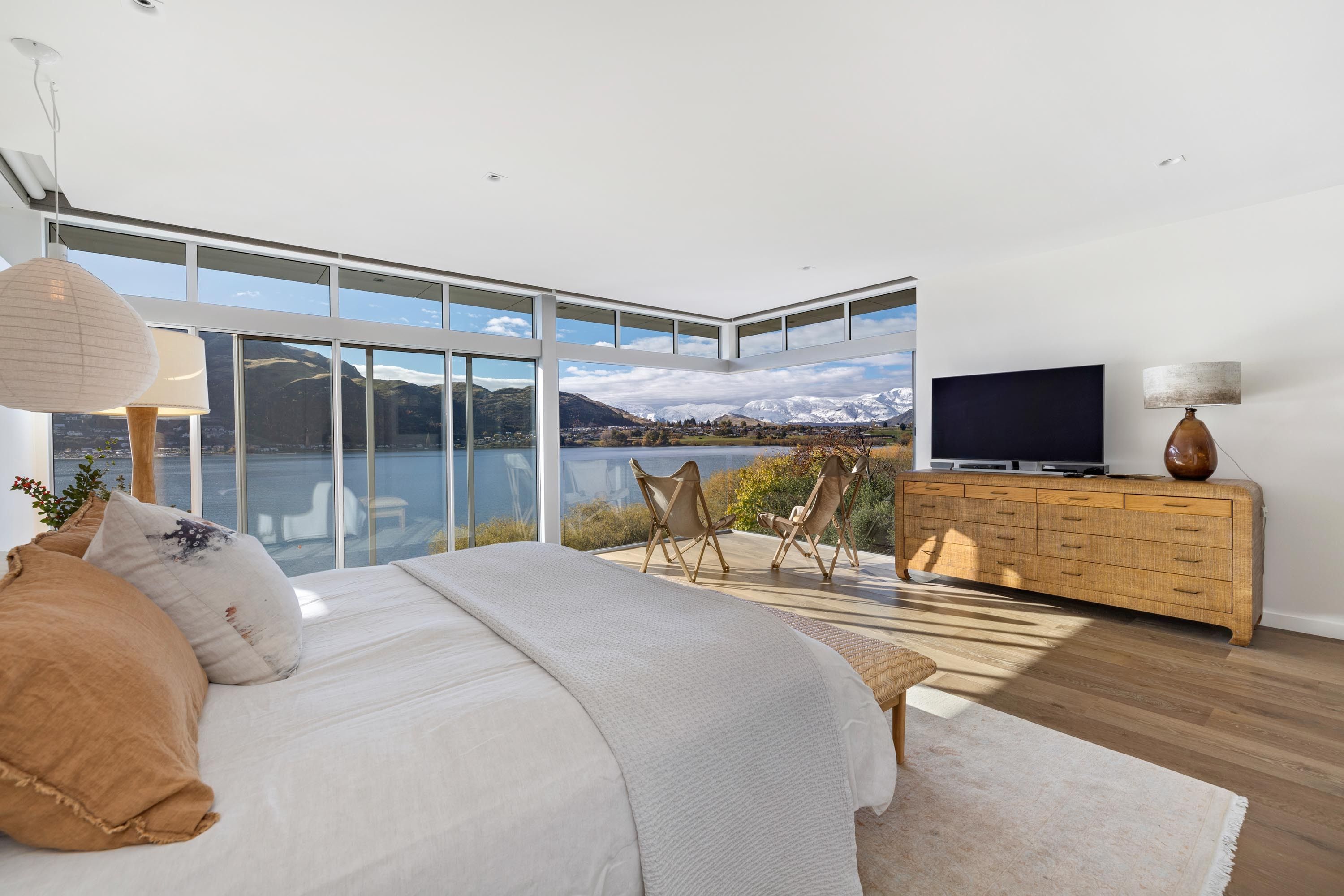 But the true luxury of 'The Beach House' lies in its stylish pool house, cleverly designed to double as a fourth bedroom. Here, you'll find a sanctuary of serenity. The swimming pool, heated in summer, awaits your afternoon dip, while the outdoor heated spa promises to soothe your tired muscles after a day of mountain adventures.
So, whether you spend your days exploring the wonders of Queenstown and Wanaka or cocooned in the cozy embrace of 'The Beach House,' one thing is certain: this lakeside paradise promises an alfresco bathe in the pure magic of nature, leaving you with memories as sparkling as the lake's shimmering waters.
Waters Edge
Perched gracefully on the tranquil shores of Lake Wanaka, Waters Edge is an architectural masterpiece that revels in its privileged lakeside position. This remarkable residence offers an idyllic hideout, where the pristine waters of Roy's Bay stretch before you, and the serenity of the lake becomes an integral part of your daily experience.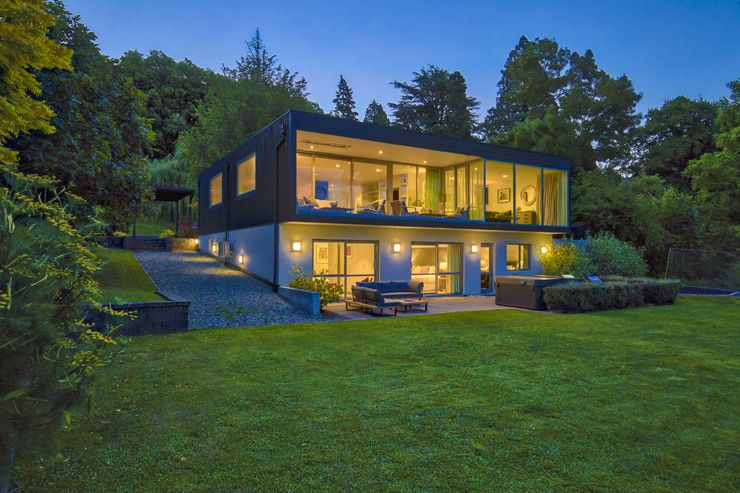 Upon entering this lakeside hideaway, your gaze is irresistibly drawn to the awe-inspiring views that unfold from the living area and kitchen. These panoramic vistas are a testament to the retreat's unique location, offering an ever-changing canvas of natural beauty.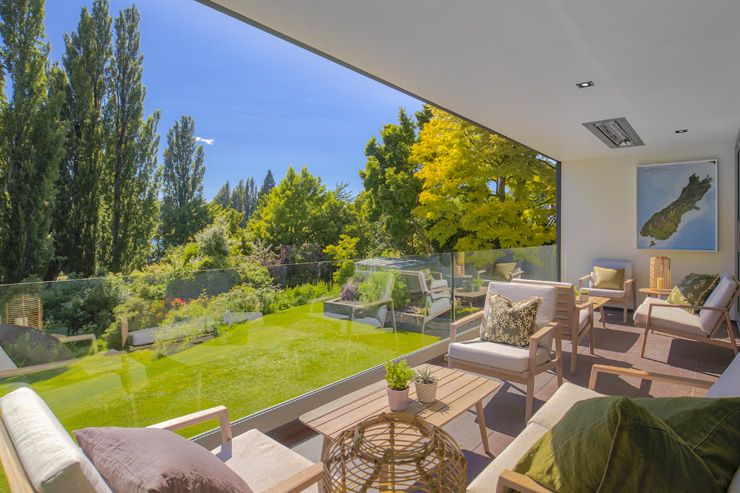 The lakeside allure continues as you explore the lower floor of the residence. Here, three additional double bedrooms open up to embrace the captivating lake views, creating an ambiance of serene comfort. Each of these bedrooms offers direct access to the expansive outdoor space, ensuring that the lake is never out of reach.
Stepping outside, you'll discover a haven of relaxation, complete with soft seating areas for sun-soaked lounging, a rejuvenating spa pool, a playful trampoline, and flourishing established gardens—all set against the breathtaking backdrop of Lake Wanaka.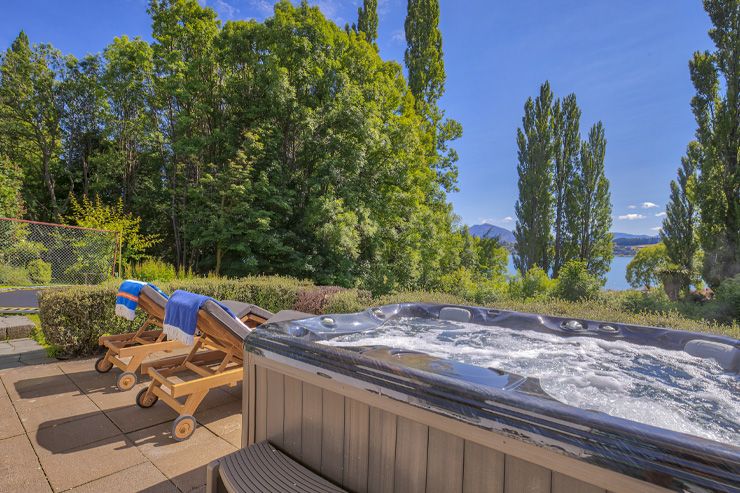 For the younger members of the group, a spacious double bunk room awaits, promising endless adventures and laughter-filled moments. With multiple entertainment areas thoughtfully designed for movie nights, game days, or simply unwinding in the embrace of nature's beauty, there truly is a space for everyone to revel in the lakeside experience.
Beyond the boundaries of Waters Edge, the beauty of Lake Wanaka unfolds. Whether you seek to immerse yourself in the iconic Wanaka Tree or take a leisurely 10-minute stroll along the waterfront to explore the vibrant town centre, the lake is your constant companion. Direct access to the water allows you to fully engage with the beauty of the beachfront, embark on scenic lakeside walks and bike rides, or partake in the excitement of water sports, all at your doorstep.
Bob's Cove Retreat
Nestled upon the peaceful shores of Lake Wakatipu, ensconced within a secluded enclave just a mere 15-minute drive from the vibrant heart of Queenstown, Bobs Cove Luxury Retreat beckons with a promise of exceptional opulence. Like a well-guarded secret, this hidden gem emerges as a sanctuary tailored for the discerning traveller, offering an extraordinary escape that promises to enchant and captivate your senses.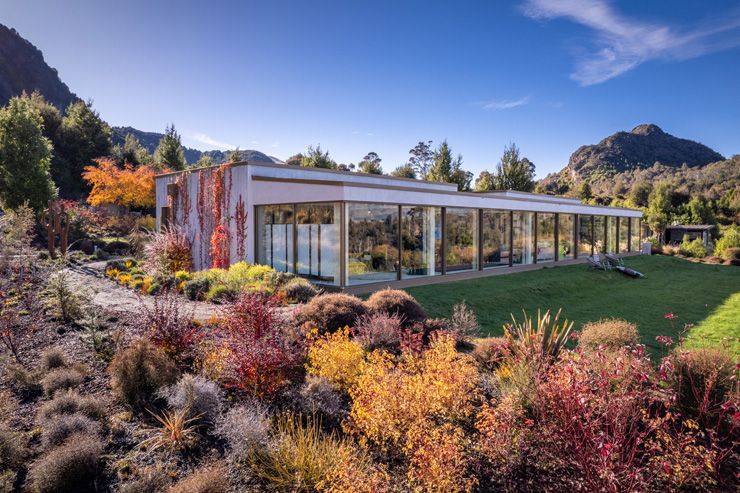 Yet, it is the outdoor allure of Bobs Cove Luxury Retreat that sets it apart in a league of its own. With exclusive private access to the pristine lake and commanding views from its prime vantage point, this haven invites you to forge a deeper connection with the natural wonders that surround it. Whether you're inclined towards leisurely strolls, exhilarating bike rides, or simply relishing the tranquil lakeside serenity, this retreat grants you direct access to an unparalleled tapestry of experiences.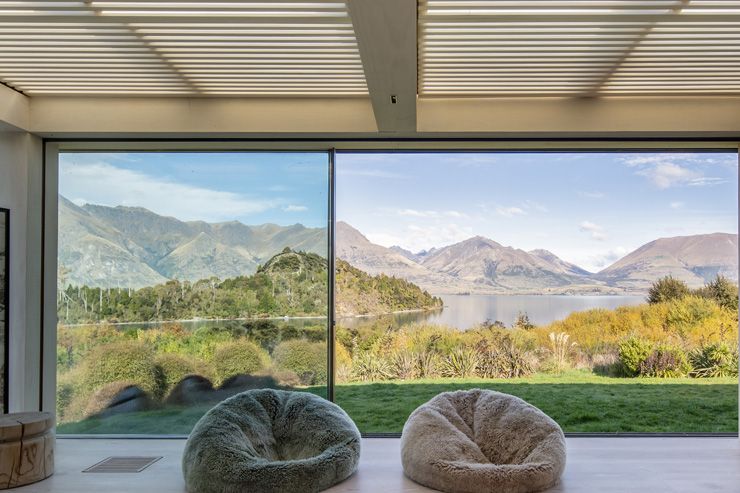 Venturing beyond the tranquil confines of this retreat, the vibrant city of Queenstown awaits your exploration. A short drive will unveil a myriad of world-class restaurants, charming cafes, and captivating boutique shops, each offering its unique allure.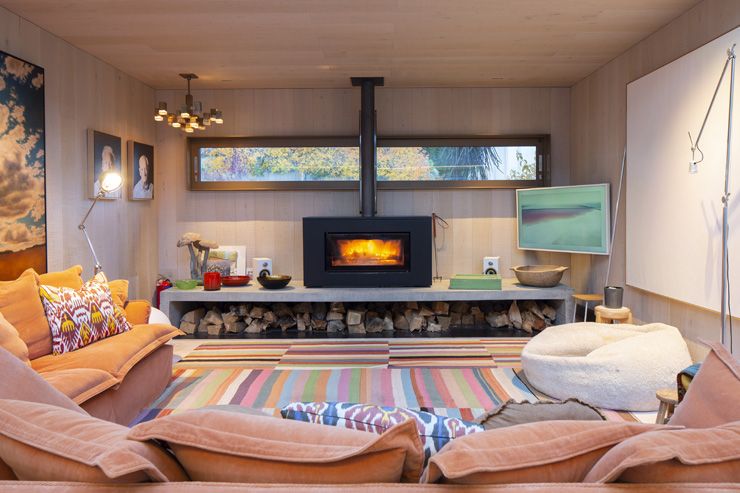 In Bobs Cove Luxury Retreat, you won't merely find a place to stay; rather, you'll uncover an immersive experience that captures the very essence of Queenstown's luxurious charm and natural splendour. It's a destination that leaves an indelible mark on your memory, where the fusion of comfort and style harmonises seamlessly with the captivating beauty of the surrounding landscape.
Your lakeside escape awaits, promising a blend of rejuvenation and adventure that only these unique waterside homes can provide.