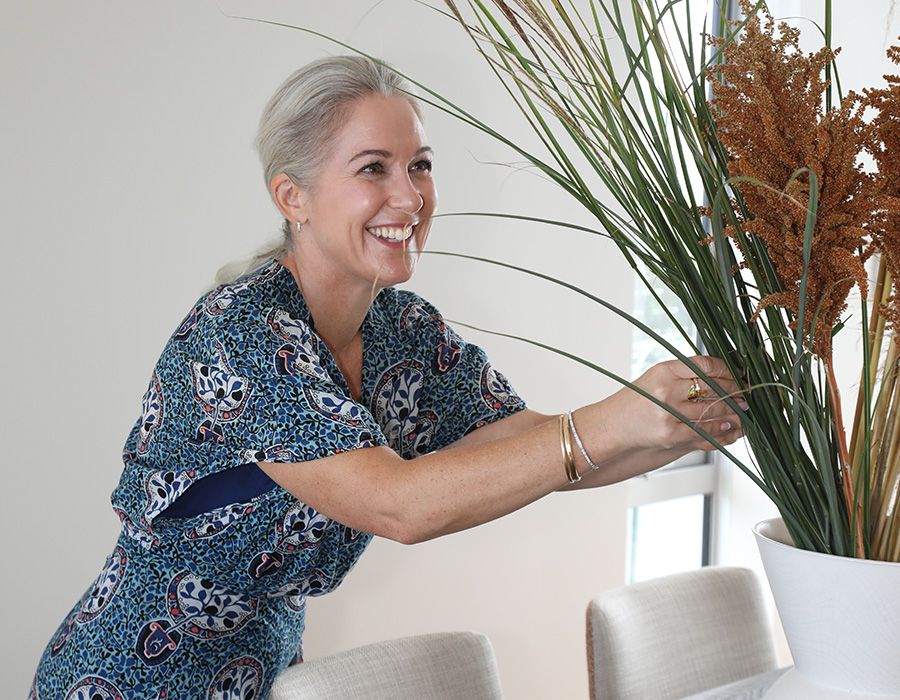 The definition of a trend is 'a general direction of change in a situation or in the way people are behaving,' and interior designer Kirsten Ford is tasked with keeping up with these changes more than most. Styling the interiors of some of New Zealand's most opulent homes, she is the personification of what's hot and what's not.
"I would describe my own personal style as both contemporary and classic, with attention to stylish detailing," she says. "But my passion is creating spaces that are tailored to each homeowner's personal story and lifestyle – with a little bit of an edge, of course."
Here, Kirsten shares some of the global trends she's seeing emerge in NZ homes and what to watch out for in '23/24.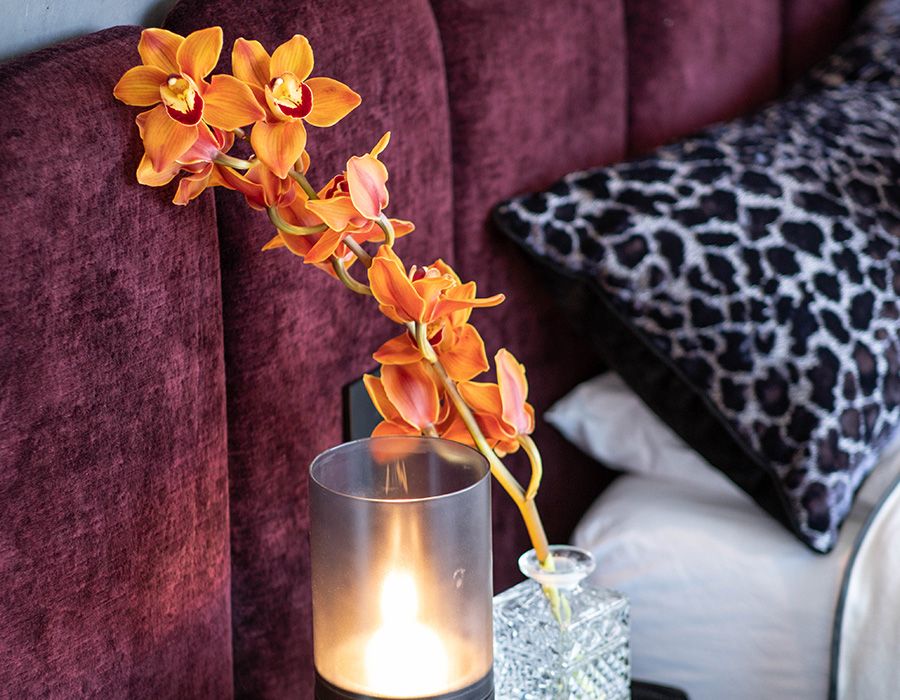 Not-so-subtle style
"During the pandemic there was a need for comfort and practical casualness. We're now seeing a trend towards more formality in our style, more detail and more luxury. It's not quite a maximalist style, but it is a departure from the minimalism seen in previous years. We're expressing ourselves with careful layering of textures and shapes, rather than through pattern and print – it's a more grown up, polished style. I'm calling it Modern Maximalism."
Social spacing
"For those with the luxury of space, dedicated rooms for collecting and enjoying wine can be one of the most loved features of a home. In other homes, there is an established trend towards elevating areas of a kitchen, dining or living room by creating an at-home bar area to mix a favourite cocktail, display a collection of gins or pour a prized pinot noir. Often these areas are built in with custom cabinetry, beautiful open glass shelving and accent lighting to create the perfect place to entertain and relax.
The most fun and memorable home entertaining areas will tell a story of their owners –channelling a favourite winery, echoing the vibe of a favourite bar discovered on travel adventures or a fusion of places and experiences with the best memories."
Embracing the outdoors
"One trend we're loving for outdoors is the use of outdoor lighting – even portable lamps – which provides a 'new luxe' feel when viewing a garden from both outside and inside. I'm also loving the addition of pool cabanas to outdoor areas. Yes, they offer a practical seating area, shade from the sun and are a perfect entertaining space, but they also completely elevate an outdoor area. Plush cushions, drapery and lanterns dress these spaces for poolside perfection."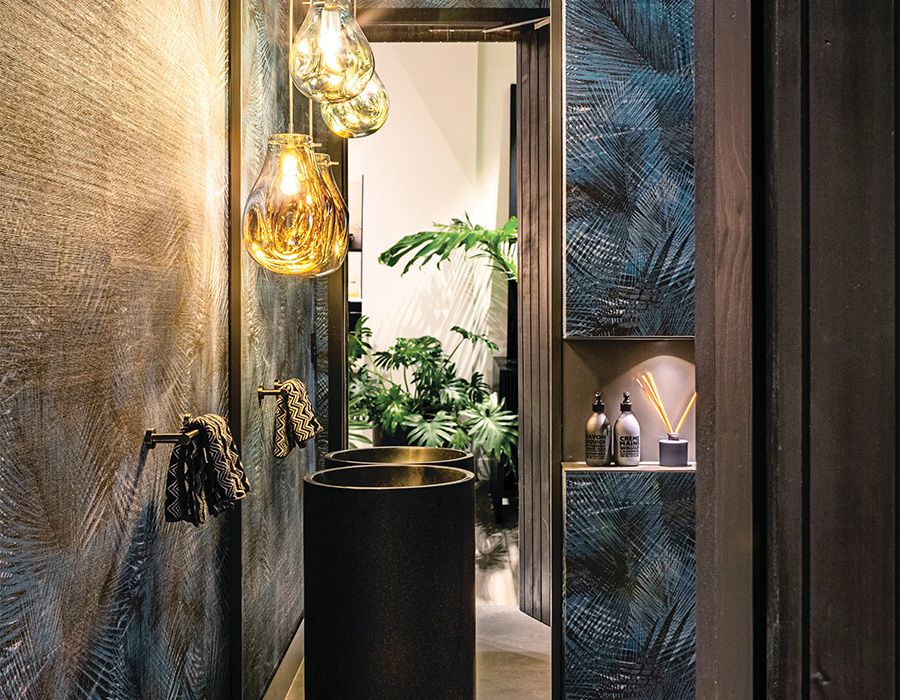 Earth-inspired tones
"As we embrace comfort and wellness, we are gravitating towards rich, warm neutrals – much earthier shades than the cool grey tones we've favoured for years. Whites are creamier, accented with all shades of taupe, caramel and brown. As we become more confident and expressive with colour, we're seeing a trend towards accents which are bolder and more saturated; rich reds in cherry, berry, wine, and all shades of green, especially ocean, leaf, forest and the brightest Kelly green.
I'm loving the more dramatic monochromatic trend, where the trim is painted out to match the walls. Instead of using white trim and ceilings, bold colour is used throughout. To make a real fashion statement, layer the colour through textures and textiles in similar tones."
Skip the scandi
"The Scandi trend of painting every wall white, with blonde timber floors, styled with a white rug and white sofa is dated. Spaces are now warmer and richer, more colourful and personalised. As the antitheses of minimal Scandi style, favourite tones and selected patterns are layered through walls, soft furnishings and accessories. It's the fusing of fashion and interiors where pattern, colour and texture create a more bespoke, opulent and slightly eclectic look. For the not-so-bold, colour and patterns can be layered on top of white walls and neutral floors."
Home gyms
"One of the most visible trends sparked by the pandemic is the creation of dedicated spaces for exercising. In these areas we consider lighting, ventilation, linking to home automation for music and also the ambience, i.e., styling a fun, personalised space to work out in. The areas aren't necessarily big, but design tricks like mirrored panelling or the right wallpaper can provide a feeling of spaciousness."
Unexpected elegance
"I love that bold marble and stone are being used in new ways. We're seeing stone with exaggerated veining and dramatic colouring – and it's being used on surfaces like door frames, windowsills, feature walls and mouldings, as well as cleverly in kitchens and bathrooms."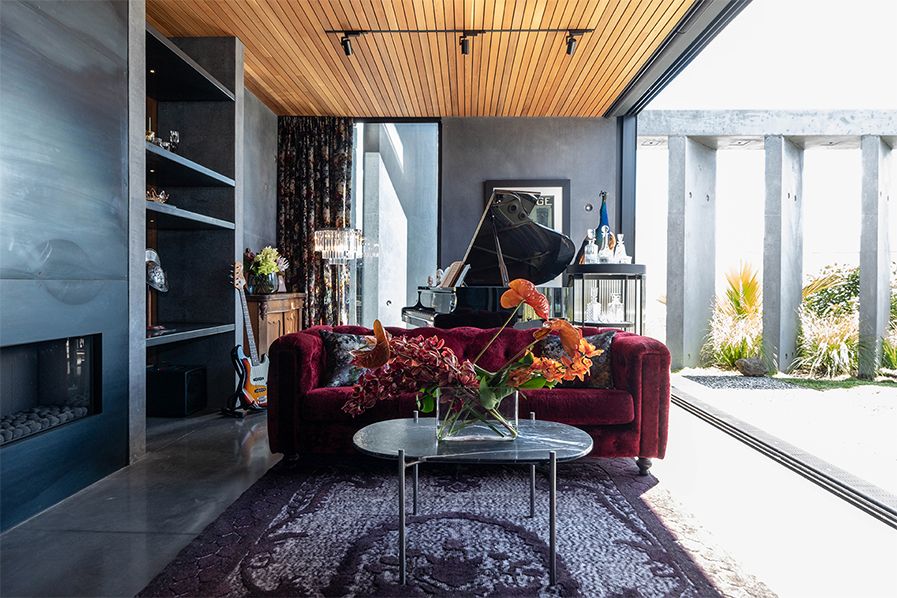 Greener choices
"Fast furniture is something we are rejecting in favour of pieces offering quality, longevity and uniqueness. As we all become more environmentally conscious and more thoughtful with our purchases, there is less impulse buying. People are favouring NZ brands who design with locally sourced materials for our unique antipodean lifestyle."
Well workspaces
"Now that working from home has become a permanent way of life, there is a much greater demand for dedicated home office spaces – often multiple spaces for different household members to productively work. While high on functionality, these spaces are now very personalised, reflecting the taste of the owner. The most requested feature is a background that will look fabulous on Zoom!"
Curves ahead
"Rounded, organic shapes are welcoming and calming. They soften a room but also connect us to nature and the outdoors. Curves are dominating furniture trends, from subtle detailing on chair arms to round coffee and dining tables, or a fully curved sofa.
The curved sofa is a versatile piece, encouraging more connection and conversation than the traditional sofa setting around a television. But above all, curved pieces imply comfort and softness – likely to be a trend we'll see a lot more of."
Mixing metals
"Bronze, gold and copper have been the metals of choice for a while but we are seeing a trend for using a mix of different metals to create a more dramatic look. Mixed metals can be used in a variety of ways, from small accents to large statement pieces. We love matt black with antique brass, satin brass with polished nickel, and oil-rubbed bronze with copper. Our rule to mixing metals is to use two and no more than three finishes in one space, and while it's okay to mix both polished and matte finishes, keep all the plumbing and tapware the same."