Elite marathon runner and Nike run coach Lydia O'Donnell shares her advice for achieving a PB.
As one of Aotearoa's most anticipated running events – the New Zealand Sotheby's International Realty Queenstown Marathon – draws near, participants around the country are ramping up their training programmes.
Distance and endurance are often the goals for this fun run which traverses through some stunning scenes, but so is speed.
These all-important factors have long been the driving force for Tauranga-born elite marathon runner Lydia O'Donnell, 31, who has spent many years running – and winning – numerous events around the world.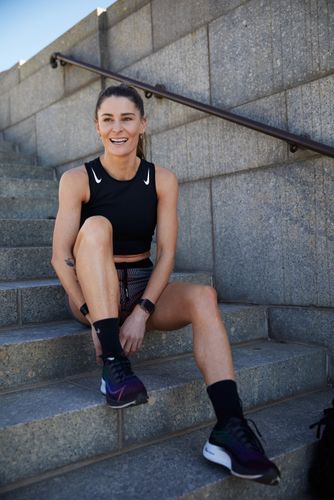 "Running is the medicine for my mind and provides me a space to find myself," she says. "It gives me purpose when I am lost, allows me to connect to like-minded people and create a sense of much-needed community. I use running as my form of meditation and through meditation we are able to work through who we are and who we want to be.
One of her most memorable runs was the 2018 New Zealand Sotheby's International Realty Queenstown Marathon, in which she was the second female to cross the finish line at two hours, 56 minutes.
For those competing in this year's event on Saturday, November 19, Lydia shares her hot tips for reaching your personal best on race day.
Train and condition
Whether you're a seasoned runner or a beginner, the final 12-16 weeks before an event are the most crucial for your training.
"From 12 weeks out it's important to focus on more distance-specific training, ie, full or half marathon," she says. "But the more time you have to train, the more conditioned your body will be to prevent injury and improve fitness and speed."
Go the distance
"Your endurance will naturally improve as you run more," says Lydia. "The key is to increase your distance gradually. Increase your long run each week by a small amount. If you increase too quickly you are putting your body at risk of injury, so be patient with building up to the distance you would like to be at prior to race day."
Pick up the pace
Introduce speed sessions to your training programme to get ahead of the pack. Lydia suggests incorporating one or two speed-specific workouts and really pushing how fast you can move. Strength training will also have a positive impact on your race time.
"Key exercises such as squats, deadlifts and lunges can help you increase your lower body strength which in turn will increase your running power and speed," she says.
Nurture your nutrition
Food can be used as a performance enhancer so, if you want the gains, pay attention to what you're eating.
"Focus on a balanced load of carbs and protein and stick to what you know," advises Lydia. "If you are running the half or full, load up slightly more than normal but try not to binge on food as your body may respond in a negative way."
Strategise
"The goal of every race – no matter the distance – should be to negative split the race, ie, run the first half slower than the second half," says Lydia. "It can be hard to not get carried away with the hype and adrenaline of a race but in the longer-distance races I constantly talk to myself and repeat the words 'calm and consistent' throughout until I am at least 75% of the way through. This is when you should be ready to push and finish the race strong."
Race-day ready
Fuelling and hydrating your body correctly is key in long-distance running but it's important to try out any pick-me-up foods, liquids or gels prior to the big event so you can figure out what works best for your body in order for you to perform your best.
"As a general rule, aim to take on an energy gel every 30 minutes or every six-to-eight kilometres throughout the race and be sure to drink water alongside your gels to help process the energy," she says.