If stunning, special, and off-the-grid are all keywords on the shopping list for your next home – and money is no object – you'll be hard-pressed to find better than Falcon Brae.
Nestled into the hills above the Motueka River in Tasman, near Nelson, the five-star eco lodge and beloved family retreat has received a spectacular design treatment.
Built by American couple Don and Stacey Fergusson from 2016 to 2019, their goal was "to nestle the structure unobtrusively into the hilltop, creating a completely private, peaceful, and remote oasis".
They have certainly succeeded. With a swimming pool, spa pool, helipad, music and games spaces, three expansive suites, a bunk room and six bathrooms, all set with sweeping views above the winding river, Falcon Brae as a home and lodge is simply staggering to behold.
"The falcon in the name resonates in the elliptical curved wing-like roofs and refers to the resident native falcons known as karearea that soar above the property. And 'brae' in Scottish means a hill above a river," Don says.
"The design of Falcon Brae Villa itself was inspired by the spectacular surroundings and the best architectural features Stacey and I had experienced in our travels and in our own Balinese-style home in Santa Barbara, California."
"From the beginning, we were committed to being completely off-grid, with an array of solar panels tucked away on the hillside out of sight. Multiple springs on the property provide drinking water that is clean and delicious. Even though Falcon Brae is an eco-lodge, we achieved this without sacrificing luxury."
Keen travellers since selling family business Rust-Oleum Corporation in 1994 (a business selling rust-preventive paint and protective coatings), the Fergussons had visited New Zealand many times as they ventured around the world.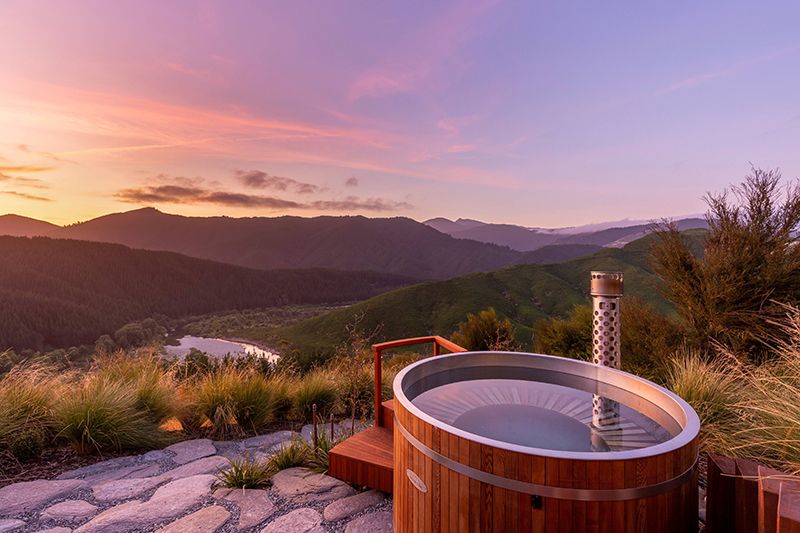 "Thanks to the sale, Stacey and I had the good fortune to stay at some of the most spectacular villas and lodges in the world," says Don. "We became inspired to one day create a world-class villa of our own, as a way of providing to others the kind of life experiences we had enjoyed on our travels, and to create a phenomenal residence for ourselves.
"We began travelling regularly to New Zealand in the mid 1990s, fell in love with the country, and fantasised about one day having a residence or lodge here. By 2009, we had zeroed in on the Nelson area for its mild climate, sunny days, easy access, stunning natural beauty, and world-class trout fishing."
One such trip to New Zealand would offer a fateful encounter when Fergusson went to stay at the neighbouring retreat, Stonefly Lodge, which had just opened.
"I met the owners, Kate and John Kerr, began a conversation about collaborating on a project someday, and caught a 9-pound brown trout. Though I released that trout, I got even more hooked on the dream."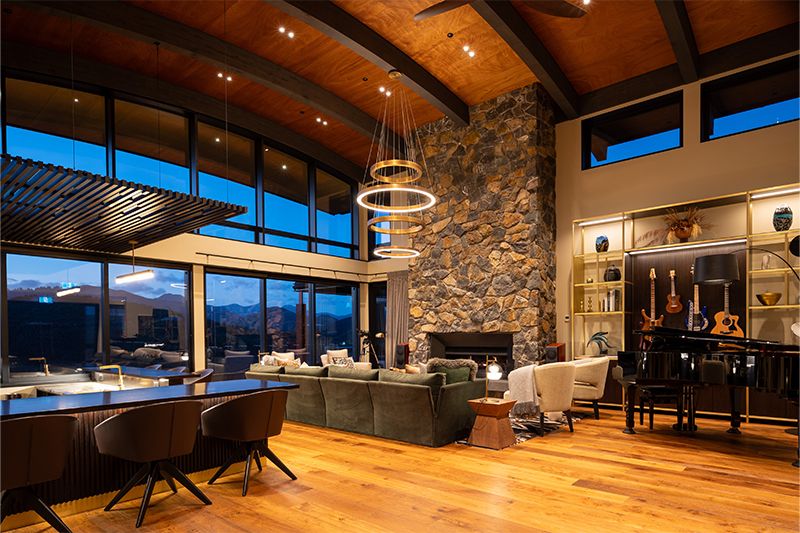 "Each year, I returned to Stonefly, deepened our friendship, and continued the conversation. Then, in 2016 I received an email from John that the 180-acre sheep farm adjacent to Stonefly was coming on the market, after being in a local family for more than 70 years. That was the opportunity to make the dream a reality."
The Kerrs, who had a longstanding career in hospitality, were the ideal partners for the Fergussons. Creating Falcon Brae would start from the ground up.
"We cleaned up the Stanley Brook and the banks of the Motueka River, clearing non-native trees and overgrown brush to bring the rippling currents clearly into view. We cleared gorse and broom from the hills, planting 75,000 native trees, including 50,000 manuka trees as a bee refuge and a honey business."
"We carved a road to the building site at the top of the mountain 150m above the Motueka River, with a 360-degree view that spans from Mount Arthur and the forest-clad mountains of the million-acre Kahurangi National Park to the peaceful Motueka Valley," he says.
On site, the "dilapidated sheep farm, complete with rusting cars in the yard, and a circa 1905 homestead house that had gone decades without maintenance" would become a fully renovated five-bedroom villa for staff, with an additional studio apartment and tiny home.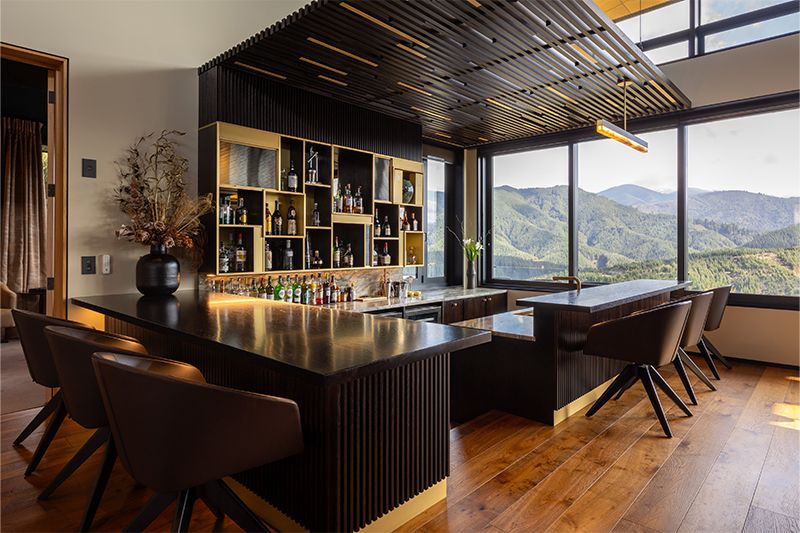 Experts on the project included architect Simon Hall of Jerram Tocker Barron Ltd (JBT), based in Nelson, interior designer Eleanor Steel of ES Design in Wellington, and landscape architect from Nelson firm Canopy Landscape Architects.
"Stacey and I were very hands-on throughout the entire project, using a process we call a Living Vision, that describes in "present-future tense" what the villa will look and feel like when it's completed, as if it already is," says Fergusson. "This ensures that all team members had a shared vision of what we were creating.
"We described the style as Pacific Rim, firmly grounded in New Zealand, using native timber and stone."
Falcon Brae is so loaded with special features, it's hard to know where to look. New Zealand motifs and the works of local artisans have been integrated throughout.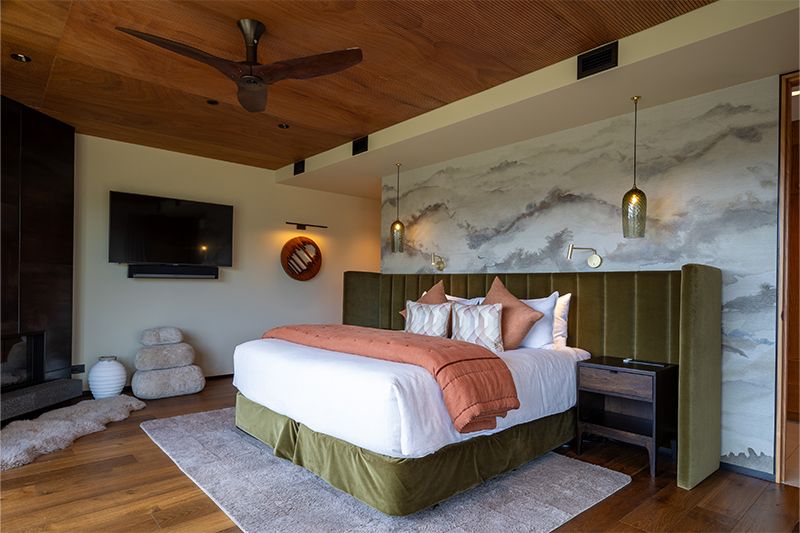 "The elaborately designed entrance door panels honour the traditions of New Zealand's Māori culture," Don says.
"Materials showcase New Zealand artisans, with most of the joinery, cabinetry, furniture, carpets, and other furnishings sourced and made in New Zealand. Stacey and I personally selected an extensive collection of art, from paintings to sculpture, all from New Zealand artists and many from our local gallery.
"Of particular note is the magnificent outdoor falcon sculpture that watches over the villa from the hill above the motor court, created by an artist in Wānaka and placed by helicopter."
"Though the exterior design is contemporary, with steel, glass, and high sweeping rooflines, we decorated the interior to be warm and cosy, with native wood floors, stunning hand-built stone fireplaces, acoustic sound-absorbing ceiling panels, comfortable furniture, and colourful carpets."
Beginning to welcome guests in 2019 and treating them to the best of leisure and culinary activities that the Nelson region has to offer, the Fergussons are sad to be moving on from what they feel is a special place in the world, but with time marching on, it no longer makes sense to have a home away from home that's quite so far away.
"Falcon Brae is near and dear to our hearts, a truly special place on the planet," says Fergusson. "It is sad to be putting this property on the market, but time goes on, and my life priorities at age 70, and my wife's at 61, are different than when we started this project. I'm retiring from business and simplifying life."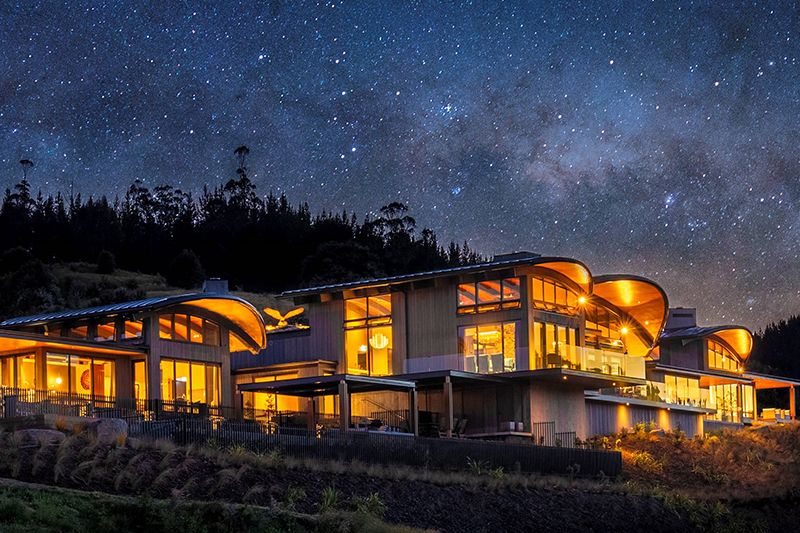 "Now with three adult children and five grandchildren in the United States, we want to spend more time closer to home, with fewer and shorter visits to New Zealand."
"We'd love to see Falcon Brae acquired by someone who will keep it running as a lodge business. Then we could come back for visits."
"Neighbouring Stonefly Lodge is on the market as well, following the untimely and sad passing of our dear friend and general manager John Kerr last year, so there's a unique opportunity for someone to buy both properties and have two 5-star lodges on nearly 350 acres."
"From the beginning, the owner's vision was to nestle the off-grid villa modestly into the hilltop, creating a completely private, peaceful, and remote oasis without sacrificing luxury. A very important aspect was to use local products, materials and artwork and they have achieved this showcasing the world-class level of talent and workmanship that is available in the Tasman area," says listing agent Nadia Hay of New Zealand Sotheby's International Realty.
"Falcon Brae will appeal to buyers looking for the perfect blend of luxury and sustainability, as a magnificent private residence or to keep running as exclusive luxury accommodation," she says.
This story was originally published by Stuff