There's a reason why rattan immediately evokes an exotic, faraway feel.
It comes from more than 600 different species of climbing vines native to tropical regions around the world including Indonesia, Southeast Asia, the Philippines, Malaysia, and China.
But while rattan furnishings have often been reserved for holiday homes and patio areas, more people are now realising the textural beauty of the material and are not limiting it to beach life or the outdoors.
Like many new trends, the rattan resurgence can be partly credited to the global pandemic – after spending so much time staring at the walls in lockdowns, homeowners are now gravitating towards natural materials to emulate nature and a sense of calm.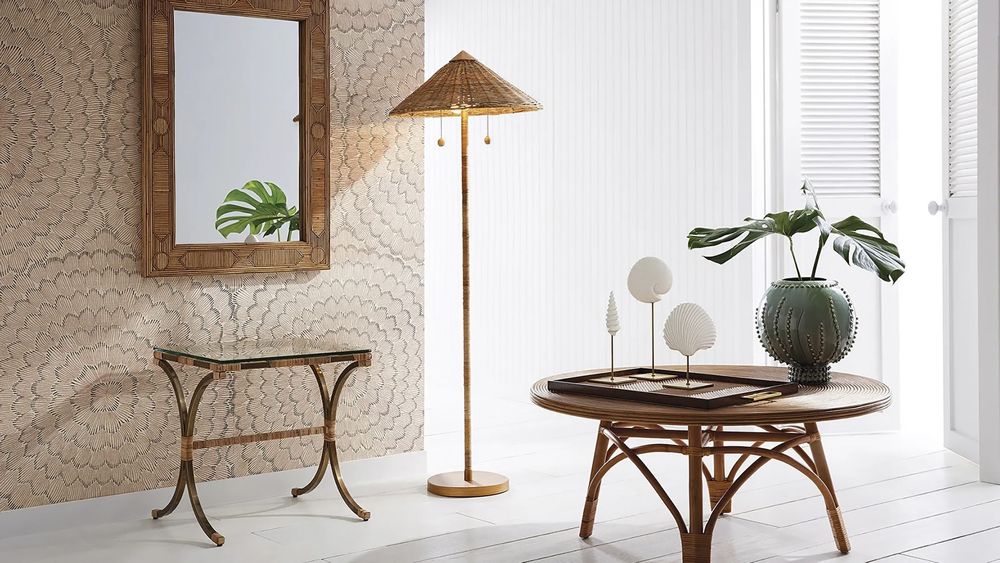 Celerie Kemble of Kemble Interiors says rattan is easily adaptable and can be incorporated within most interior styles, from traditional to contemporary.
"Rattan is a light-hearted, natural material that often adds sculptural interest because it's crafted to easily bend and curve and can be woven into a wide variety of shapes and patterns," she says.
But perhaps one of rattan's most endearing features is that it's 100% sustainable. The rattan vine can grow at a rate of two centimetres per day, meaning it's ready to harvest in just two to three years. It's also surprisingly durable – you can expect a rattan furniture piece to last well over a decade.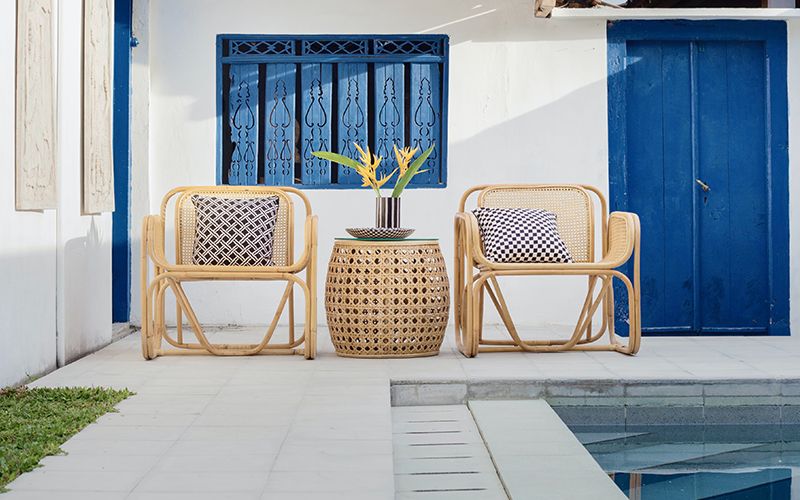 Consider the contrast
The beauty of rattan lies in its versatility. It can be mixed with other materials and iterated in surprising ways. Kemble recently designed a coffee table using clear acrylic and rattan.
"The contrast of the natural material with the visibility of the more technical material is just stunning," Kemble says.
Because rattan is so light, it makes for great accent and accessory pieces such as bar carts, stackable chairs, side tables and floor lamps. But it's just as effective in lighting applications, picture frames and shelving – particularly when up against a contrasting printed wallpaper.
Mix and match
Rattan is the type of material that can be melded into any space, with an eye toward balance. A rattan sideboard can be used to soften a dining room that has more traditional or formal pieces, for example.
"A simple, traditional item mixed with a more elaborate, sculptural rattan piece can bring the perfect synergy into a room," says Kemble.
She also has a rattan coffee table nestled in her formal living space.

"It makes the dressy, formal furniture and rug feel younger and the room more relaxed."
Another way to balance rattan is through textiles – introducing opposing textures like silk or velvet can break up the look. For example, try pairing a velvet sofa and a couple of rattan chairs with velvet accent cushions.
Be strategic
Most interior experts recommend using restraint for year-round seasonality and liveability – rattan overload can look dated.
Instead, stick to key statement pieces in your space to lead the eye throughout the room. Consider incorporating two or three items – such as chairs or pendant light fixtures – as the focal point or showcase just one large rattan piece (a cabinet, dining table or sofa) and add complementary woven accessories around the room.